Gluck,
Orpheé et Eurydice
(Gardiner cond. English Baroque Soloists at the Royal Opera House)
Anyone would be forgiven for getting confused amongst the Orpheus-themed operas. This summer I saw one by Birtwistle (
The Corridor
) and Monteverdi (
Orfeo
);
there are five at Covent Garden this year
. Last night the Royal Opera's season was opened by the first performance of the French version of Gluck's opera with John Eliot Gardiner conducting the English Baroque Soloists and Monteverdi Choir, in a new production by
Hofesh Shechter
and John Fulljames.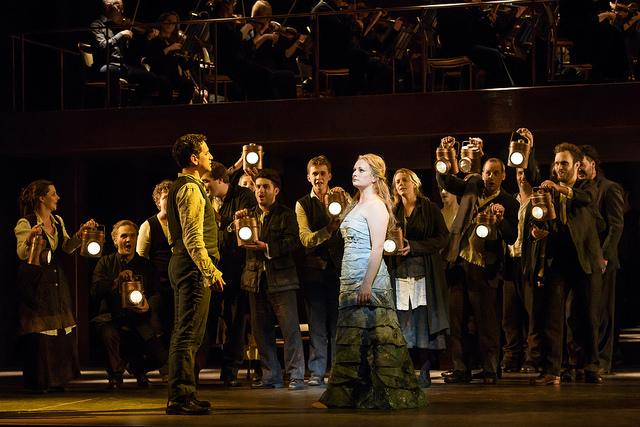 Juan Diego Flórez as Orphée and Lucy Crowe as Eurydice with the Monteverdi Choir in Orphée et Eurydice. ©2015 ROH. Photograph by Bill Cooper
The production was largely pared back. The (fifty-odd piece period) orchestra was taken out of the pit and placed on a platform on the stage – at the hands of the Soloists, the beautiful score was given wonderful treatment as wonderful sounds came by turns from each section. An especially beautiful Harp solo (Gwyneth Wentink) was characteristic of how well the music was done. Colours of gold and blue and brown and dark orange are used to evoke hell. Eurydice is immolated twice: she dies twice after all, by setting fire to a metal cage in the shape of a person. Over the stage large dirty pieces of what appears like copper appear, bearing holes like punch cards containing music; round apertures recall stringed instruments. Through the holes lights shone: inverting in a way all the candles from
Saul
and emphasizing the subterranean. With the exception of the odd lamp, this is about as much as there is. What all this added up to was less clear. There seemed a lack of coherence, even if it was all fairly inoffensive.
Much space is kept clear on stage for dancing. Dance is not something which is discussed particularly on these pages, but Shechter's company had produced pretty tight routines requiring terrifying stamina and dexterity. The exertion required was apparent from the raised orchestra pit (one could hardly turn down the chance to stand almost exactly where Pappano does), as the dance company glistened with sweat. I was tired watching them. Set to Gluck's music it was a sublime experience.The Dance of the Blessd Spirits can never have been more charming, or the Dance of the Furies more malicious and threatening in sound or movement.
But let's get to the singing. Juan Diego Flórez was brooding, melancholy, pitiful but an immense stage presence. When he sang he filled every inch of the auditorium with long, bold lines. The part suited him perfectly and to have been in such proximity was an especial privilege: I can't imagine he wasn't immaculately clear on the very back row of the amphitheatre. Amada Forsythe made for a very sexy, powerful amour, showing the part so well in an astonishing gold suit (and possibly a silver one too, or that may have been a trick of the lighting). Lucy Crowe was on fine form again as Eurydice.And all supported ably by the Monteverdi Choir.
Overall: some perhaps unthrilling staging didn't hamper a sensation Flórez, ably supported by Forsythe and Crowe. The dancing was superb and undoubtedly not to be missed.
Cast and credits
Conductor - John Eliot Gardiner
Orphée - Juan Diego Flórez
Eurydice - Lucy Crowe
Amour - Amanda Forsythe
Dancers - Hofesh Shechter Company
Monteverdi Choir
English Baroque Soloists
Music - Christoph Willibald Gluck
Libretto - Pierre Louis Moline
Directors - Hofesh Shechter and John Fulljames
Choreography - Hofesh Shechter
Designer - Conor Murphy
Lighting designer - Lee Curran