Peter Maxwell-Davies,
The Lighthouse
(
Royal Opera, Southbank Sinfonia cond. Jonathan Santagada)
It takes little imagination to understand why the Victorians were fascinated by the mystery of Eilean Mor Lighthouse Keepers. One of the Flanna isles in the outer Hebrides, a small outcrop. One December night in 1900, three light house keepers vanished from a remote lighthouse and nothing is ever seen again. What caused them to leave? Peter Maxwell-Davies' 1979 opera was likely triggered by automation in 1979. A chamber ensemble from the Southbank Sinfonia provided the sound track.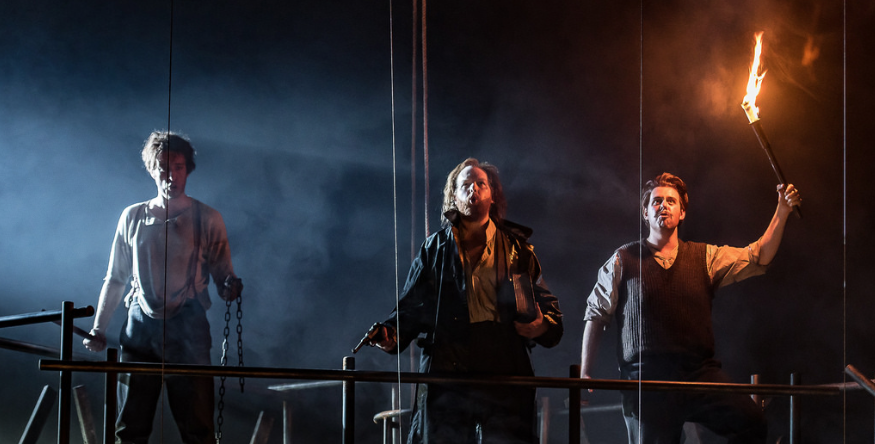 Image ROH

It is hard to believe the scope of the score in a mere 1h20. Instruments take solos, and low-key and explicit folk references make this Britten-esque (think Paul-Bunyan). The Southbank Sinfonia met the demands of the piece: tender skilful violins, surprising noises from what I think was possibly an electronic keyboard (to provide celesta and out-of-tune keyboard) by Colin Scott.
Through tenor, baritone and bass, Maxwell-Davies produces a remarkably richly-sung piece, and through
This was the highpoint of the "Meet the Young Artists Week" part of the Jette Parker programme. Alyson Cummin shad successfully produced a wooden-framed structure which effectively made claustrophobic the Linbury Studio – even if it missed the solidity of a lighthouse. Yet the shadows let Warren Letton's atmospheric lighting and dry ice cast shadows The intimacy of the venue was perfect for the work too.
So we have no idea what actually happened in Eilean Mor (
a good summary here of what is actually known
or see the
Northern Lighthouse Board's page
). Contemporary society unsurprisingly is tempted by the psychological just as the Victorians looked to the supernatural. But PMD doesn't really rule this out. One textual confusion (deliberate or accidental) is that when giving evidence, all three of the relief crew claim there was no fog horn; when playing the three keepers, they talk of starting up the fog horn and gratitude for the thick walls. This may be deliberate. Are they going mad? Is the horn the beast and all in their minds? THe gun-play ramped up the tensions - perhaps unsurprisingly. The three young voices were pretty powerful – especially Yuriy Yurchuk, even if not quite producing the sheer power they doubtless will further down their career. More than anythign there were real hints of good things to come.
Overall: This was a tense, atmospheric performance which met the varied needs of the piece. I look forward to more from all involved.
Cast and credits
Samuel Sakker: Sandy, First officer
Yuriy Yurchuk: Blazes, Second officer
David Shipley: Arthur, Second officer
Conductor Jonathan Santagada
Director: Greg Eldridge
Designer: Alyson Cummins
Lighting designer:Warren Letton