Verdi
, Don Carlo
(Gianluca Marciano cond. Bournemouth Symphony Orchestra at Grange Park Opera)
The prospect of an auto-da-fé replete with children thrown on burning fire amidst the heavenly surroundings of Grange Park makes one feel like an interloper in Candide. But this is no Voltaire: this was deadly serious. Having been a guest at the General Rehearsal it would be wrong to write at any length or offer criticism, but I think a short note saying what a super production it is would be acceptable.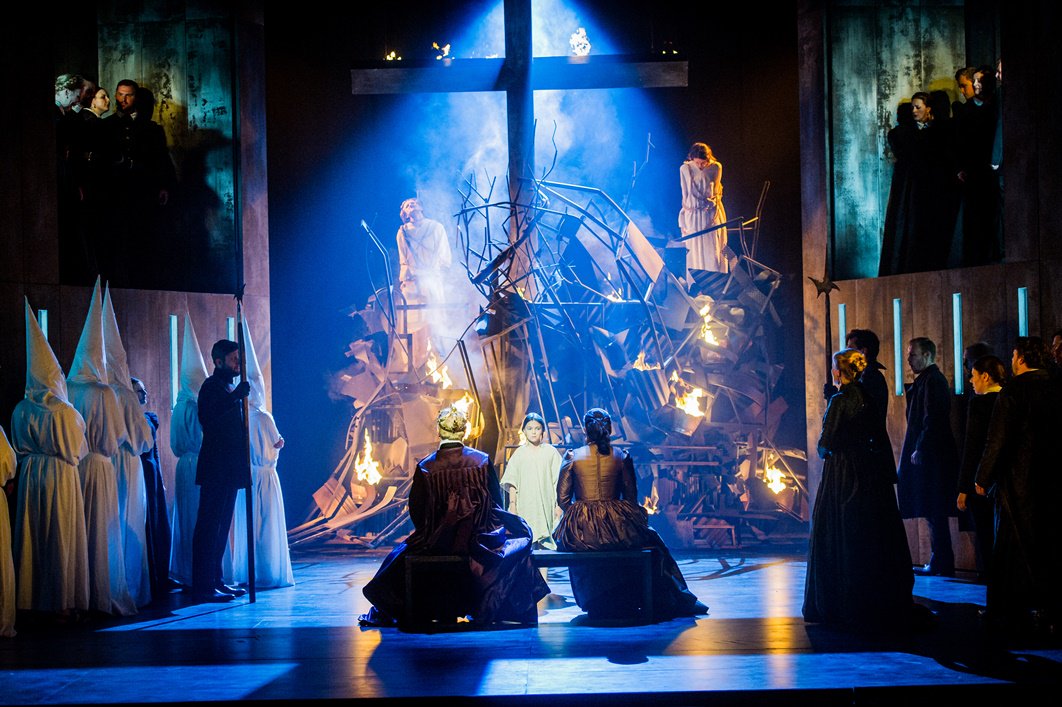 Heretics on fire. Image GPO/Twitter
The staging is pretty big, but well-judged to the theatre. It almost resembles a Bond villain's lair. Vocals were strong, and the chorus were on particularly good form, which is as well as there is much for them to do. For the second time in a week I find myself writing 'not my favourite Verdi', but I do like it a lot, and the third act includes music not a thousand miles from the start of Otello. I think I may also say, without overstepping unwritten rules about Generals, that the BSO sounded absolutely terrific.
What makes all this rather heartening is that this is the last staged production (there is a concert Tristan mid-July - just a little piece you understand) by Grange Park Opera at Grange Park. They have gone out big, bold, confident and on top form. We await great things in the theatre in the woods.
Overall: a great production to say goodbye to the Grange
Don Carlo at GPO until 10/7; read about Theatre in the Woods
here
.
Conductor: Gianluca Marciano
Set Designer: Leslie Travers
Lighting Designer: Anna Watson
Costume Designer: Gabrielle Dalton
Don Carlos: Stefano Secco
Elisabetta: Virginia Tola
Princess Eboli: Ruxandra Donose
The Grand Inquisitor: Alastair Miles