Rossini
, Il barbiere di Siviglia
(Enrique Mazzola cond. London Philharmonic Orchestra, Glyndebourne)
The new
Barbiere
at Glyndebourne is a lot of fun, especially after the long interval, when the audience is easier, lubricated by sufficient quantities of Champagne and the contents of wicker hampers. Mazzola went for a very punchy explosive version of the score which added to the jollity. Indeed it was a party atmosphere and the LPO were happy to join in with it. Mazzola was involved, vocally, from the pit, on several occasions. This is a light-hearted piece and it was presented as such. Joanna Parker had quite a simple set, which featured a blue-and-white tile pattern on the back, with some interesting holes cut in with light showing through.
Vocally this is a strong production. Björn Bürger as the barber was superb. His 'Largo al factotum', was singularly flawless. He didn't miss a beat. Even if this wasn't the most perfectly-coloured rendition of it, the energy and clarity of it was memorable. His presence on stage emitted dramatic energy. He is one to watch and from whom we will doubtless have great things. Danielle di Niese took a little while warm up and shed a slight roughness to her voice – that is it to say it didn't glow with the apparent ease it did last summer.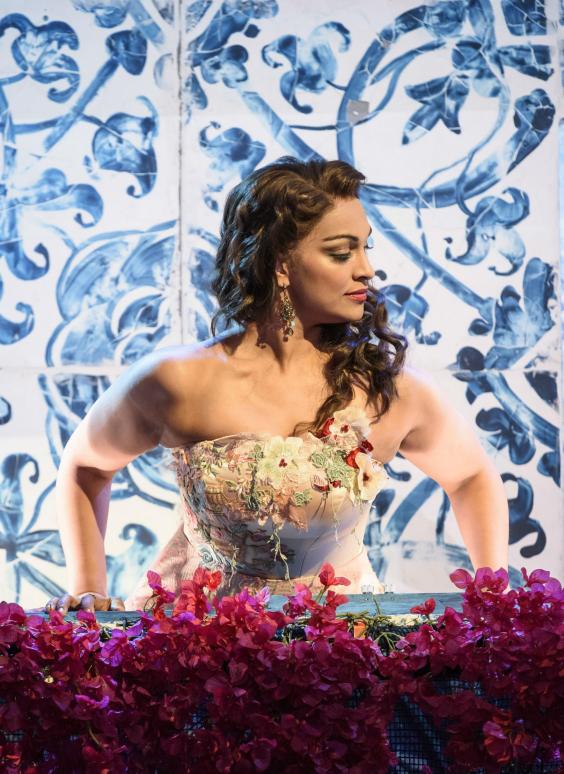 Danielle di Niese (Glyndebourne/Bill Cooper)
Danielle remains one of the very finest comic actresses and was an absolute delight in the part. Her protective dentist-uncle was the inimitable Alessandro Corbelli. He was a scream, beautiful singer and you wouldn't even be close guessing his age. Berta (Janis Kelly) gets only one big number, but here it was a belter. Count Almaviva (Taylor Stayton) was tremendous. One of my very favourite roles is Don Basilio, and in this part Christophoros Stamboglis was absolutely smashing. Paid off, he took ages to leave, charging around the fairly simple set to great effect.
Almaviva, Rosina, Bartolo, Bertha, Don Basilio, Figaro, some coppers
The chorus get an outing as policemen, in green uniforms and it is all a bit Pirates of Penzance.
The only thing disliked in our party were the gratuitous harpischords and pianos lowered down just before the interval. But they didn't really do any harm.
Overall: comic opera as it should be.
Until 17th July
Cast and creative team
Conductor Enrique Mazzola
Director Annabel Arden
Designer Joanna Parker
Director of Movement Toby Sedgwick
Lighting Designer James Farncombe
Rosina Danielle de Niese
Dr Bartolo Alessandro Corbelli
Count Almaviva Taylor Stayton
Figaro Björn Bürger
Basilio Christophoros Stamboglis
Berta Janis Kelly
London Philharmonic Orchestra
The Glyndebourne Chorus